Welcome!  This site is intended to provide a general overview of vibracoring tools and techniques, primarily for those contemplating a vibracoring project of some sort.  I'm a marine biologist by training (now retired) and most of my 15-year experience with vibrocoring has related to sediment pollution studies in the U. S. Great Lakes area.  Any perceived bias of content here is the unintended result of that.  Contributions of comments and pictures about other vibracoring applications are always welcome, and may be included with your permission.  (Note: homepage image courtesy of Rossfelder Corp.)

You may contact me by email, and I look forward to discussing your vibracoring ideas!

V. Elliott Smith, Ph.D.

"There's got to be a better way!"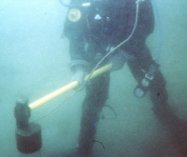 If you would like to link to this site, please feel free to use this icon.