The Drowned Forest Project:

Remains of Ancient Forest

Are Found Under Lake Huron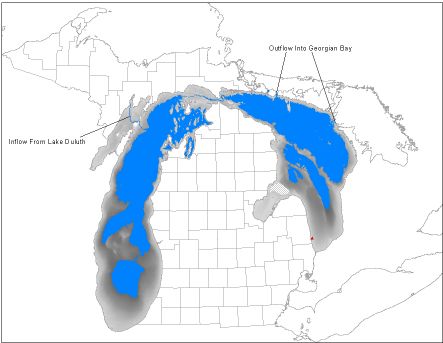 Great Lakes Huron (right) and Michigan, as they probably looked during the "Stanley Low" period some 8,000 years ago.  The drowned forest site is now about two miles offshore in 40-50 feet of water.

As the North American glaciers began receding for the last time some 10,000 years ago, water levels in the future Great Lakes were sometimes much lower than at present.  Forests covered the southern end of what is now Lake Huron.  Then as the glaciers melted and waters rose, these forests were inundated and drowned.  Today their remnants -- well preserved logs and stumps -- have been discovered in waters over 200 feet deep.

One such "drowned forest" site was investigated by researchers of the Noble Odyssey Foundation, assisted by Navy Sea Cadets on their 80-ft. training/research vessel, the Pride of Michigan.  At this location in Michigan waters of southern Lake Huron, divers mapped the distribution of logs and even rooted stumps at the bottom in 40 to 50-ft. depths.  Although the wood looked remarkably well preserved, samples that were carbon-dated ranged in age from 7,000 to almost 8,000 years old.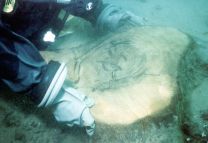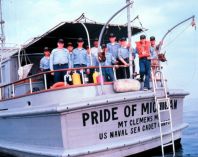 Ancient logs mark the site of this drowned forest in southern Lake Huron, Michigan.

Diver inspects a 7,000 year-old rooted stump, cut off to reveal its well preserved interior.

The project crew includes scientists, divers and Sea Cadets.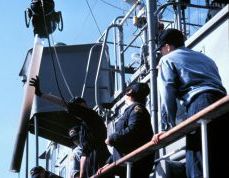 A vibracore is collected to study the sediments in which some logs are imbedded.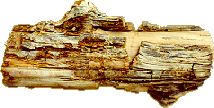 Section of a white cedar branch submerged for over 7,000 years, and it still has bark on it!

For further information, this report is available for download --

Project Drowned Forest:  A Study of Prehistoric Underwater Forests in Lake Huron, Michigan (1.07 MB)

(Acrobat Reader is required to open .PDF files.  A free download is available from this source.)